Touro GST is here to help you succeed!
We are here to assist you in:
Writing Resumes
Correspondence
Interviews
Career Advice
Internship Assistance
Job Placement Assistance
Mentorship Opportunities
Alumni Relations
Our Director of Career Services, Robert Grosberg, is a highly experienced professional who develops and sustains relationships with active employers. Schedule an appointment with Robert to move forward with your career!
Our Students and Alumni Are Employed At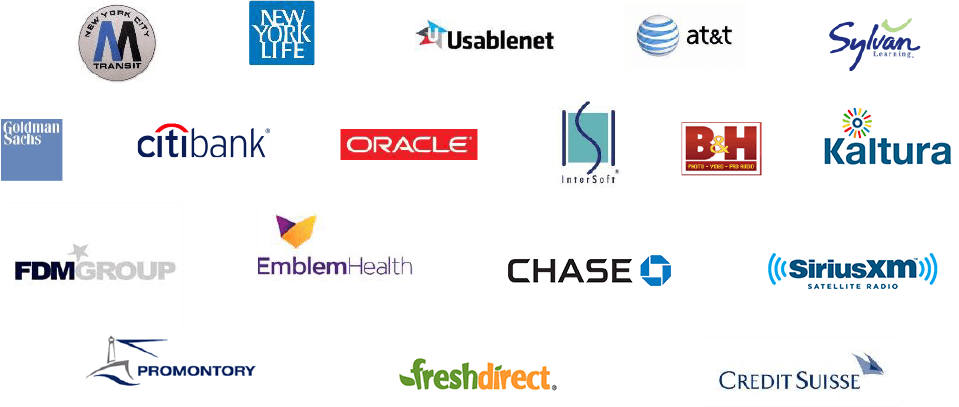 What Our Students Are Saying...
"Mr. Grosberg, I want to thank you again for all your efforts in working with me and helping me secure the new position. When I started this job search, I was frustrated and extremely overwhelmed. The strategies that you taught, allowed me to create a road map to confidently navigate the bumps along the way. I am immensely grateful to have a person with your dedication in my corner. It's my hope that every GST student, needing career guidance, avails themselves of your services."
— Joseph C.
---
"I would first like to thank you for the hard work and dedication you have put forth in the job search and acquisition process for the students. It is an amazing feeling to know that we have support in this area."
— Peter H.
---
"Thank you Mr. Robert for sending all those internship program emails to us, especially those internship emails where we, international students, can also apply. It really help us in building our career. Thank you so much."
— Monica S.
---
"Touro College's Career Services and Robert Grosberg were so helpful to me in my job search. Robert Grosberg helped me a lot in building my resume. He taught me how to emphasize my strengths and hide my weaknesses. Robert Grosberg distributed weekly job announcements from terrific opportunities of globally well-known companies in New York State and I applied to the ones I was most interested in. I was also invited to practice my interview skills onsite, with a video camera, in a real interview-based appointment, in order to be able to get feedback from school professionals and improve myself. I have finally gotten a paid IT internship with FreshDirect LLC and I have an opportunity to work in New York as an International student."
— Loucas K.
---
"I am confident that I speak on behalf of all students and alumni when I say, Thank You."
— Supath S.
---
"Thank you for directing me towards this job."
— Ben W.
---
"Thank you for the job opportunities and the portfolio advice!"
— Aliza P.