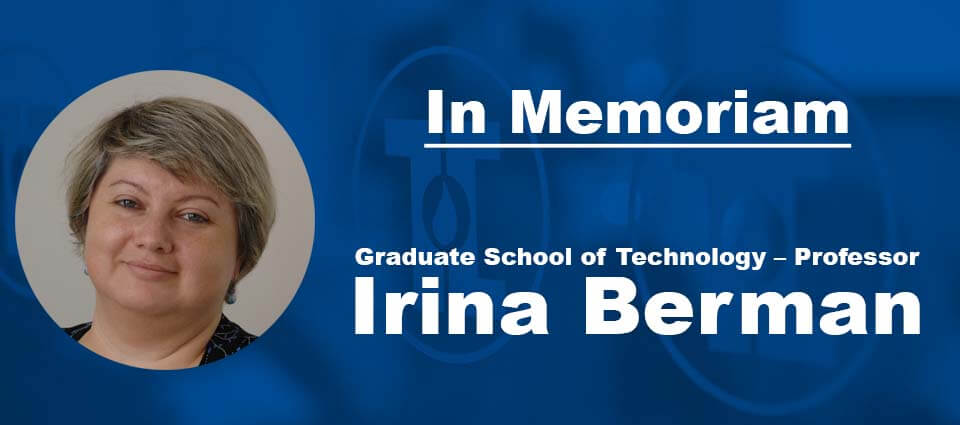 Vivacious and charismatic, Irina Berman was a natural born educator.
Irina first enrolled as a student in NYSCAS's Computer Science program 25 years ago. After graduating, she was quickly hired as a full-time Touro lab technician. She then continued her education at Touro's Graduate School of Technology earning a graduate degree in the Instructional Technology program. After earning her master's degree, Irina joined the faculty of the Graduate School of Technology.
A pioneer and lead advocate of the Distance Learning initiative for the Touro Academic Computing Department, Irina led the university-wide Learning Management System. She prepared the documentation and obtained approval and accreditation from the State of New York for Touro's first on-line programs. Over the years, Irina successfully taught and interacted with countless Touro students. Now our hearts are heavy, as we mourn her passing on November 16, 2020.
Irina loved teaching and genuinely enjoyed watching her students learn and grow. Dr. Issac Herskowitz, Dean of the Graduate School of Technology stated, "Irina was one of the most talented teachers that I ever worked with".
Irina's students always realized and appreciated her dedication and concern for them as individuals. Her former student, Luba Friedman, said, upon learning of Irina's passing, "Irina was an incredible person. I will always remember our fun chats. She is a big reason why I became a teacher".
Irina was always complimented on her pedagogical skills and how she was able to make the most difficult technical subject matter accessible. Her students, colleagues and supervisors always considered Irina to be among the finest and best educators.
Professor Payam Bina, Chair of the Instructional Technology Program, said, "Irina was an extraordinary teacher and was always excited to teach. I participated in many of her workshops and classes, and it was clear that all her students were fully attentive. Her jokes and humor during classes kept students engaged and motivated"
Irina was a true member of the Touro family. She will be profoundly missed by all.
Donations in Professor Berman's name can be made to the Touro University – GST Scholarship fund (https://gst.touro.edu/giving/scholarship-fund.php). Make sure to indicate in the Comments area that the donation is for the Irina Berman Scholarship. The proceeds will go to students in great need of tuition assistance.