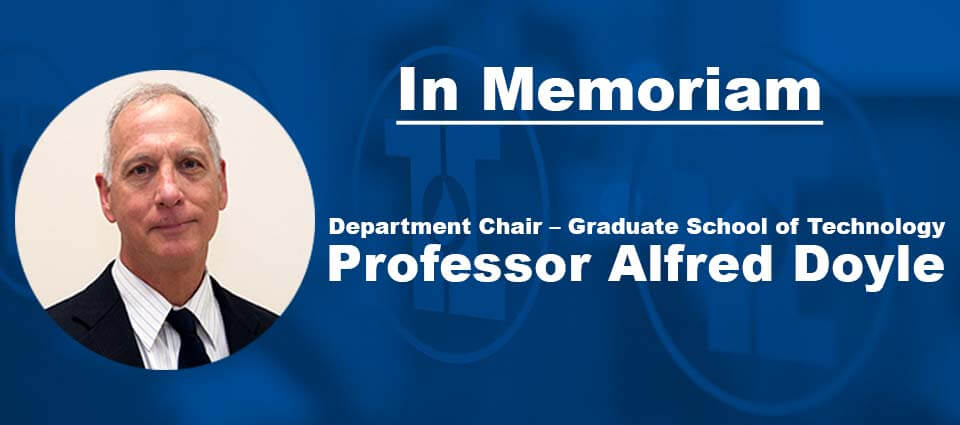 "Helping our students learn to work as part of a team to successfully launch productions, products and interactive content is our goal." — Professor Alfred Doyle
Teaching and collaborating with students were among Professor Alfred Doyle's greatest joys. Students young and old cherished his warm and caring nature, which instilled in them a love of learning and an appreciation of the arts. His gentle sense of humor and captivating field trips were well-known, and his opinion was highly respected. Professor Doyle was always available to offer his valuable advice and words of wisdom, and students sought out his feedback because they knew it came from his heart. And now our hearts are heavy, as we mourn his passing on June 11, 2020.
Professor Doyle was a beloved and dedicated educator for the Touro Graduate School of Technology for almost seventeen years. A remarkable man with a broad range of organizational and educational experience, Al's areas of expertise included interactive content development, instructional technology, digital and educational game design. Al was also the indefatigable Department Chair for the Web and Multimedia graduate program. Dean Issac Herskowitz praised Al for "making significant innovations and having a profound impact on the entire department". Outside of the college, Al was active in varied user groups, meetups, and conferences.
Gifted in both the fine and digital arts, Al was an accomplished writer. (A sampling of some of his work is available at Art in NYC.) His articles about everyone from Max Rothko to Zaha Hadid demonstrate his broad range of artistic knowledge and interest.
The Graduate School of Technology is sponsoring a Kaddish to be said in Israel in his memory. Everyone who knew and worked with Al Doyle will miss him profoundly.
Donations in Professor Doyle's name can be made to the Touro University – GST Scholarship fund (https://gst.touro.edu/giving/scholarship-fund.php). Make sure to indicate in the Comments area that the donation is for the Al Doyle Scholarship. The proceeds will go to students in need of tuition assistance.