Introduction to 3D Printing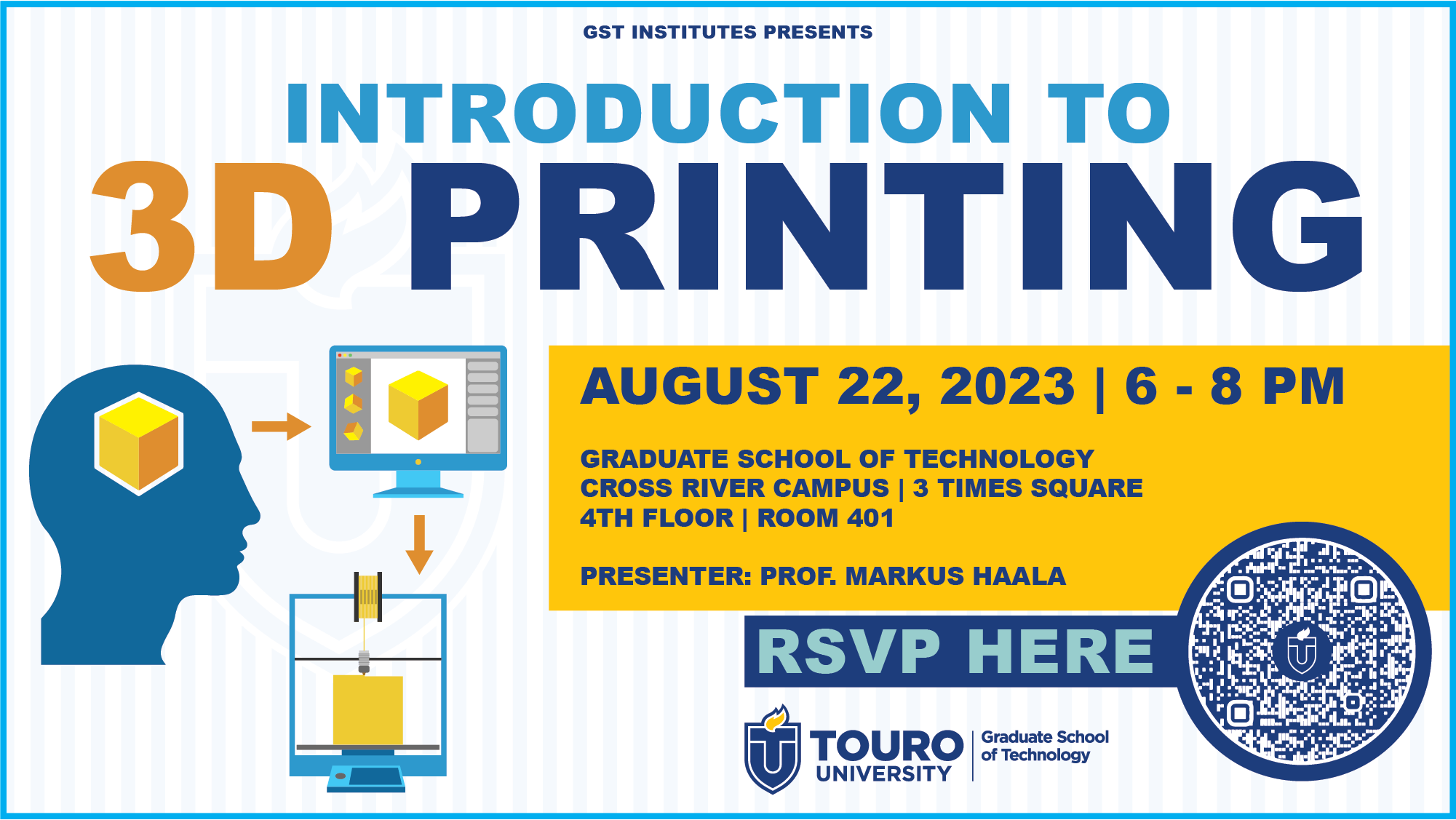 Join Touro GST's WMM workshop on August 22:
Introduction to 3D Printing
Markus Haala
6:00 – 8:00 PM EST time




Free on campus
Sign up using the RSVP form on this page
Explore the fascinating world of 3D printing in this hands-on workshop. Discover the basics of designing objects, learn about different types of 3D printers, and the step-by-step processes of bringing your ideas to life. Whether you're a beginner or simply curious about the technology, this workshop will equip you with the fundamental knowledge to start your journey into the captivating world of 3D printing.
"Introduction to 3D Printing" is a 120-minute hands-on workshop designed to introduce the basics of 3D technology. The course covers the following topics:
What is 3D printing and what are the available tools?

How do I get started with simple 3D designs?

From idea, to design, to physical output: the basic steps of making objects.
3D scanning with mobile devices.

And much much more…
This workshop is designed specifically for beginners and requires no prior knowledge of 3D modeling or printing. By the end of the course, participants will have a solid understanding of what 3D printing is and how it can be used for creative projects. Bring your laptop for a more interactive experience.
About the Presenter:
Professor Haala is Chair of the Web and Multimedia Design Program at Touro University's Graduate School of Technology. An accomplished artist and educator, his research includes the integration and use of new media technologies to advance education and creative practices. Throughout his career, he has played a pivotal role in establishing makerspaces in various educational institutions, delivering curricula that offer open access to cutting-edge technology, providing a space of support for innovative learning experiences for students and faculty alike.
Sign up using the RSVP form on this page.
Looking forward to seeing you there! ~Touro GST
Questions? Contact Markus Haala
mhaala@touro.edu
WORKSHOP RSVP!