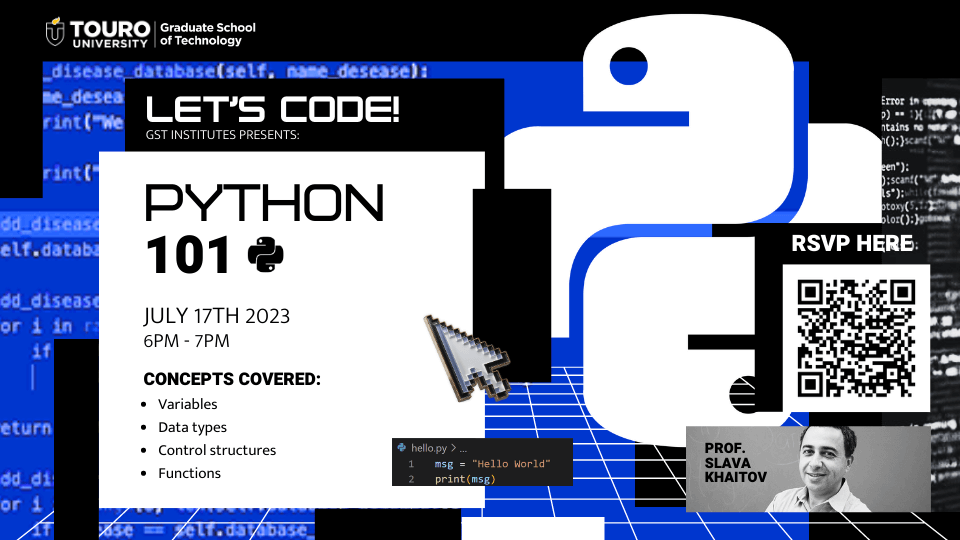 Join Touro GST's WAD workshop in July: Python 101
6:00 – 7:00 PM EDT




Free and online via Zoom
Sign up using the RSVP form on this page
Join us for an exciting introductory Python workshop where you'll discover the power and versatility of one of the most popular programming languages in the world. Topics covered are:
Variables
Data Types
Control Structures
Functions
Python is renowned for its simplicity and readability, making it an ideal choice for beginners and experienced programmers alike. In this workshop, you'll learn the fundamentals of Python programming, including variables, data types, control structures, and functions. Whether you're looking to kickstart your coding journey or expand your programming knowledge, this workshop is the perfect starting point. No prior programming experience is required. Come join us and unlock the endless possibilities of Python!
About the Presenter:
Slava Khaitov is the Instructional Technologist, Canvas LMS administrator, and Touro College instructor in the Graduate School of Technology, Graduate School of Education, and Undergraduate School of Computer Science. He graduated with MS Degree in Instructional Technology from Touro College, and earned his B.S. degree from Moscow State University of Instrumental Engineering and Computer Science.
NOTE:
All you need is a device with internet connection to stream the webinar live online from home. Sign up using the RSVP form on this page.
Sign up using the RSVP form on this page.
You will receive a separate email the day before or the day of the workshop with the Zoom link and password to join the meeting.
Looking forward to seeing you there! ~Touro University GST
Questions? Contact Jack Romano
212-463-0400 x 55462, jack.romano@touro.edu
Workshop RSVP!