Exploring Data Analytics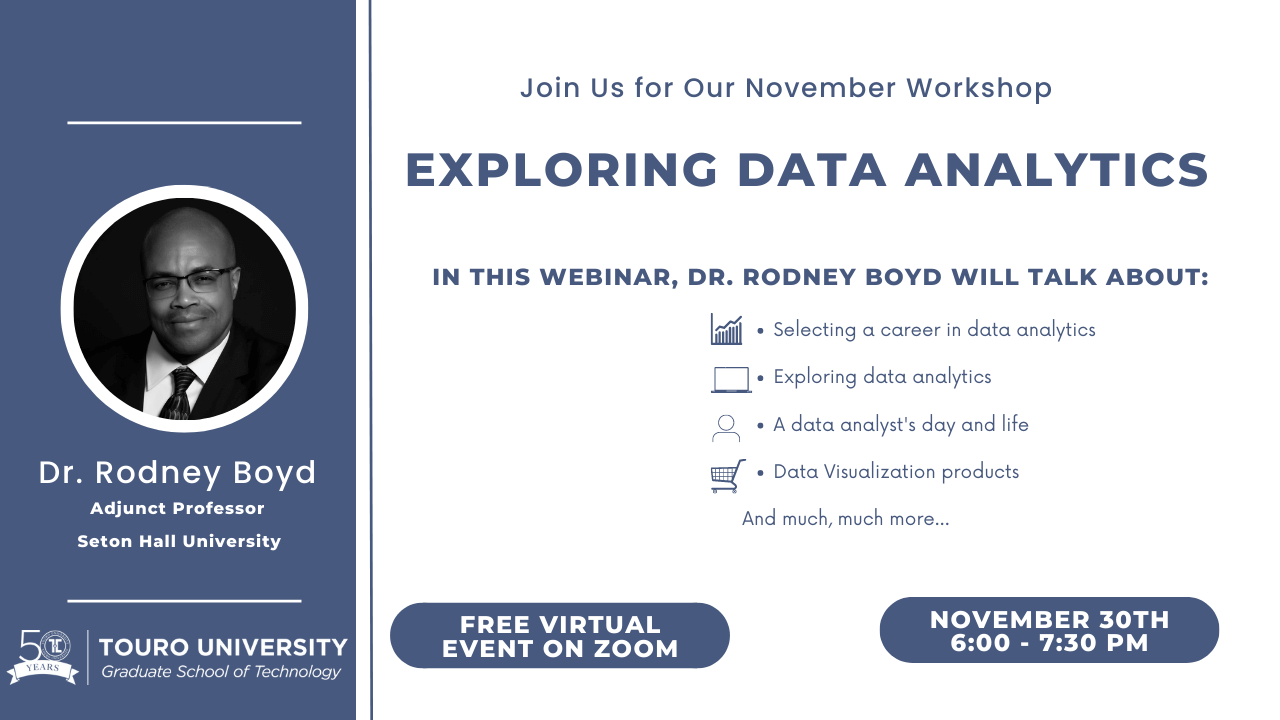 Join Touro GST's Data Analytics workshop in November:
Exploring Data Analytics
Dr.Rodney Boyd
6:00 – 7:30 PM EST time




Free and online via Zoom
Sign up using the RSVP form on this page
Dr. Rodney understands how to effectively employ analytic tools. In this webinar, Dr. Rodney Boyd will talk about:
Selecting a career in data analytics

Exploring data analytics

A data analyst's day and life

Data Visualization products

And much, much more…
About the Presenter:
Dr. Rodney Boyd is a highly skilled data scientist with progressive experience spanning over three decades within law enforcement and as a college professor developing and teaching courses on quantitative research methods and data analytics for policy analysis and decision-making.
Dr. Boyd began his journey with data analytics while working for the New York City Police Department. During his police career, he utilized data to find insight that helped the Police Department to reduce crimes to record lows. For example, he effectively employed analytical tools such as SPSS, SQL, and Excel to analyze, develop and deploy a police officer staffing model from 2004 to 2015, leading to a 26% reduction in violent crime in New York City. Dr.
Boyd received his B.S. from York College – CUNY, his MPA from Marist College, and his M.A., Ed.S. and Ed.D. from Seton Hall University.
NOTE:
All you need is a device with internet connection to stream the webinar live online from home.
Sign up using the RSVP form on this page.
You will receive a separate email the day before or the day of the workshop with your the Zoom link and password to join the meeting.
Looking forward to seeing you there! ~Touro GST
Questions? Contact Robert Grosberg
212-463-0400 x 55496, robert.grosberg@touro.edu
WORKSHOP RSVP!