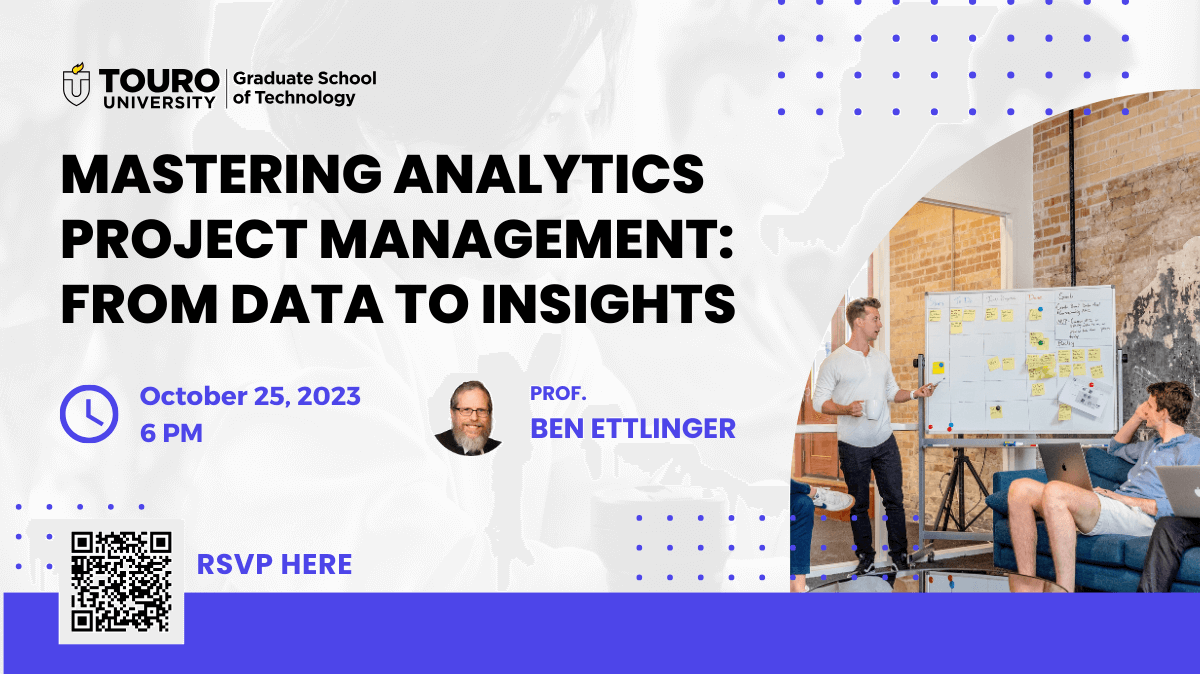 Join Touro GST's Data Analytics workshop in October:
MASTERING ANALYTICS PROJECT MANAGEMENT: FROM DATA TO INSIGHTS
Prof. Ben Ettlinger
6:00 – 7:30 PM EST time




Free and online via Zoom
Sign up using the RSVP form on this page
This workshop will help attendees gain comprehensive knowledge, and present the skills required for analytics and data science project management.
Prof. Ettlinger will discuss what is required to establish and manage a data analytics and data science project, and, among other things, will cover the following topics:
How are DS projects different?

How can they be managed?

Objectives

Leading a Team

Project Roles

Change Management

Methodologies

Strategy

And more will be covered.
About the Presenter:
Prof. Ben Ettlinger has nearly four decades of IT experience in publishing, insurance, re-insurance, and the utility industry. His extensive background includes project management, applications development, data design, architecture, systems analysis, and solving business problems with IT solutions. He has particularly focused on commercial operations, risk management, business services, internal auditing, and human resources in the utility sector. Prof. Ettlinger is the founder and former president of the New York Erwin Data Modeling User Group (NYEMUG), the largest Erwin user group worldwide. In his recent roles, he successfully established and managed the Data Analytics practice at the New York Power Authority (NYPA), overseeing a data science community of practice aimed at spreading knowledge and usage of data analytics across the organization. Additionally, Prof. Ettlinger tracked and investigated emerging technologies, including blockchains, cryptocurrency, AI, robotics, augmented and virtual reality, and natural language processing, to identify their potential applications in both commercial and utility operations at NYPA.
NOTE:
All you need is a device with internet connection to stream the webinar live online from home.
Sign up using the RSVP form on this page.
You will receive a separate email the day before or the day of the workshop with your the Zoom link and password to join the meeting.
Looking forward to seeing you there! ~Touro GST
Questions? Contact Elizabeth Dowd
212-463-0400 ext. 55693, elizabeth.dowd@touro.edu
WORKSHOP RSVP!