Analytics Skill Sets and Careers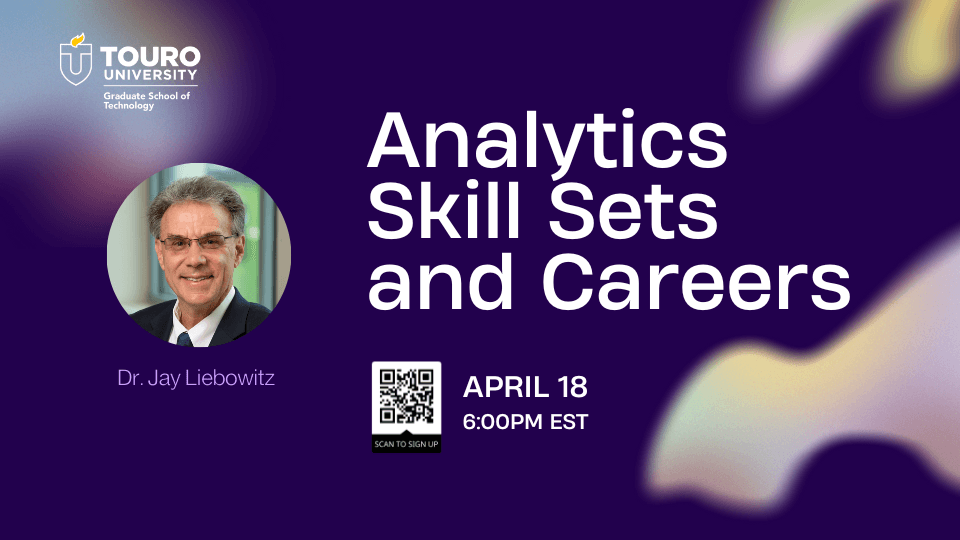 Join Touro GST's Data Analytics workshop in April:
Analytics Skill Sets and Careers
Dr. Jay Liebowitz
6:00 – 7:00 PM EST time




Free and online via Zoom
Sign up using the RSVP form on this page
The demand for analytics professionals continues to outstrip the supply. However, there are key skill sets that should be acquired by business/data analytics professionals and data scientists. In addition, certain market niches for careers in analytics should be explored. This talk will present some of the research in these areas. In this workshop:
Discover key skill sets needed for success in the field of analytics and data science.

Learn about exciting and lucrative career opportunities in the analytics market.

Explore in-demand niches in analytics and data science, and how to break into them.

Hear from an expert in the field on the latest research and trends in analytics skill sets and careers.

And much, much more…
About the Presenter:
Dr. Jay Liebowitz is a distinguished professor, Fulbright scholar, and expert in knowledge management, analytics, financial literacy, intelligent systems, and IT management. He has held various academic and research positions, including the inaugural Executive-in-Residence for Public Service at Columbia University's Data Science Institute and the Distinguished Chair of Applied Business and Finance at Harrisburg University of Science and Technology. He has also served as a Fulbright Visiting Research Chair and a Fulbright Specialist at international universities. Dr. Liebowitz is the Founding Editor-in-Chief of Expert Systems With Applications and has published over 45 books and numerous journal articles.
In addition to his academic accomplishments, Dr. Liebowitz has worked as the first Knowledge Management Officer at NASA Goddard Space Flight Center and held various positions in management science, artificial intelligence, and competitive intelligence. He has received numerous awards, including the Computer Educator of the Year from the International Association for Computer Information Systems and the Jay Liebowitz Outstanding Student Research Award from the same organization. Dr. Liebowitz is a top-ranked researcher and one of the top scientists in the world, according to a 2019 Stanford study. He is also a sought-after lecturer and consultant.
NOTE:
All you need is a device with internet connection to stream the webinar live online from home.
Sign up using the RSVP form on this page.
You will receive a separate email the day before or the day of the workshop with your the Zoom link and password to join the meeting.
Looking forward to seeing you there! ~Touro GST
Questions? Contact Robert Grosberg
212-463-0400 x 55496, robert.grosberg@touro.edu
WORKSHOP RSVP!