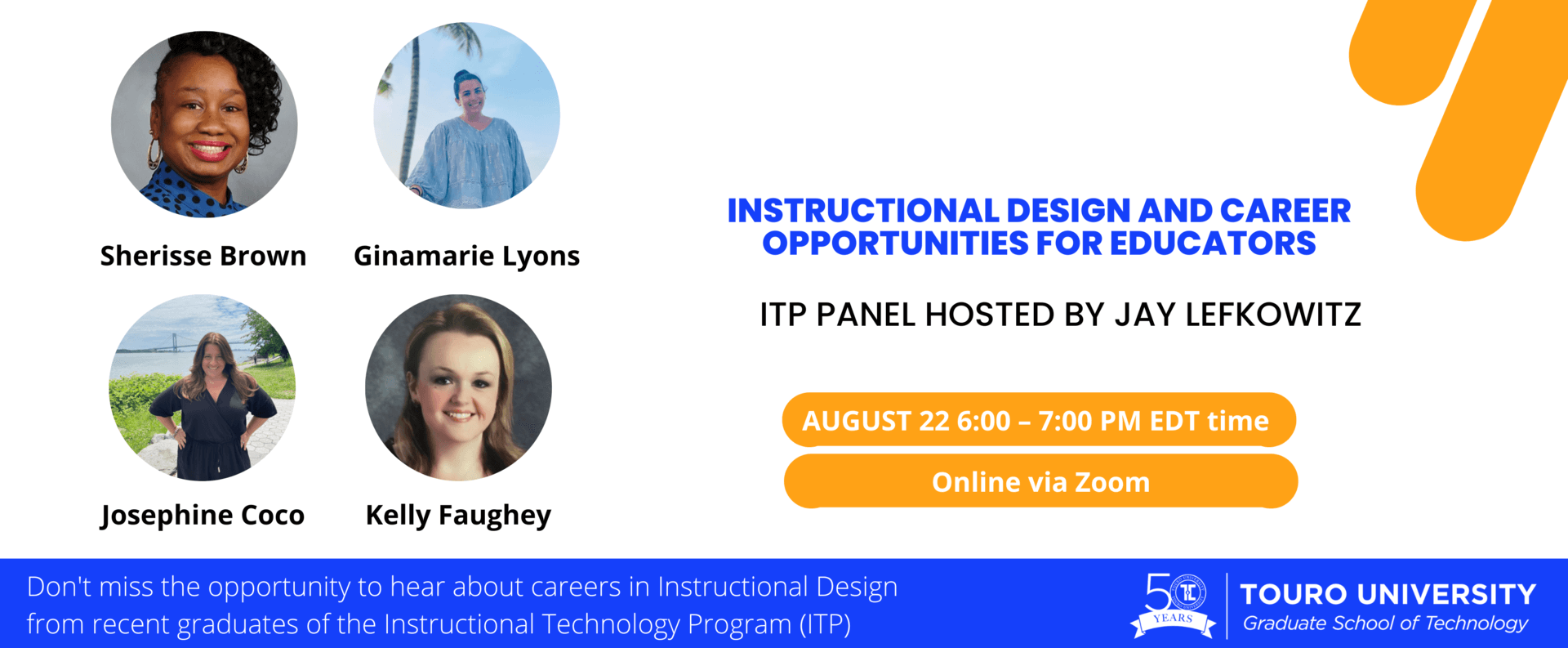 Join Touro GST's ITP Workshop:
Don't miss the opportunity to hear about careers in Instructional Design from recent graduates of the Instructional Technology Program (ITP) of the Graduate School of Technology at Touro University. All the panelists (see below) are currently and actively working in this exciting and worthwhile field.
6:00 – 7:00 PM EDT time




Free and online via Zoom
Sign up using the RSVP form on this page
Summary:
GST is planning a series of events that will be compromised by a panel discussion led by our alumni and aimed at helping our current and future alumni with career development and opportunities. This first effort revolved around Instructional Design.
About Our Panelists

Sherisse Brown
Sherisse has over 15 years of experience working in a medical library. After receiving her master's degree from Touro University Graduate School of Technology in 2018, she went on to become a Corporate Training/Learning Specialist at Weill Cornell Medicine. Sherisse has held her current position for the past three years. In 2018, Sherisse was inducted into Kappa Delta Pi - International Honor Society in Education. Since April 2019, she has been a guest alumni speaker for Professor Marty Herskowitz's Effective Oral and Written Communication for Managers course (MSIN 607). Also, Sherisse mentors many of Professor Marty Herskowitz's students on a regular basis.

Ginamarie Lyons
Ginamarie is currently in her final semester in the Master of Science in Instructional Technology program and will be graduating from this program in September. During her time at Touro, she was offered many opportunities, one being an Intern for the Office of Online Higher Education's Instructional Design team from 2020 until her graduation in 2022, and then being nominated for the Graduate School of Technology's Student Spotlight. In May of 2020, she graduated with her bachelor's degree in Digital Media Technologies with a Concentration in TV and Film from East Stroudsburg University of Pennsylvania and completed the program in 3 years. Before entering her undergrad, Ginamarie really had a difficult time figuring out what she wanted to pursue a career in. She comes from a family of teachers, doctors, pharmacists, writers, engineers, and she didn't really want to follow in their footsteps because she wanted to experience something different. Ginamarie had a feeling that I would end up teaching something, but she wasn't too sure what. She knew she wanted to be in the technology field too but didn't find her niche quite yet. After searching around, she learned more about her undergrad major and fell in love with DMT and when it came to pursing a master's degree, she found that Touro's Instructional Technology Program in the Corporate Track was for her. Ginamarie knew she had finally found her niche of Instructional Design.

Josephine Coco
Josephine is a recent Touro Graduate School of Technology Alumni from the Class of 2022, where she earned a Master of Science in Instructional Technology, Corporate Track. As a lifelong enthusiastic learner and educator, she has developed a diversified skill set along her educational path. Josephine's passion to learn and grow continuously drives her to excel. She believes every day is a chance to learn something new. Josephine's goal is to design dynamic and engaging resources, and personalized learning experiences that put learners in the driver's seat. She enjoys working with fellow enthusiasts that foster and encourage creativity, embrace diverse perspectives, and collaborate to achieve our goals.

Kelly Faughey
Kelly's experience in Instructional Design stems from her background in technology and education. She enjoys the learning and design process and creative thinking with her team when creating courses for my company. Kelly's prior instructional designer role was at New York Life. Currently, Kelly is working at Thomson Reuters in the FindLaw-Digital Solutions Department.
NOTE:
All you need is a device with internet connection to stream the webinar live online from home.
Sign up using the RSVP form on this page.
You will receive a separate email the day before or the day of the workshop with your the Zoom link and password to join the meeting.
Looking forward to seeing you there! ~Touro GST
Questions? Contact Robert Grosberg
212-463-0400 x 55496, robert.grosberg@touro.edu
ITP workshop RSVP!