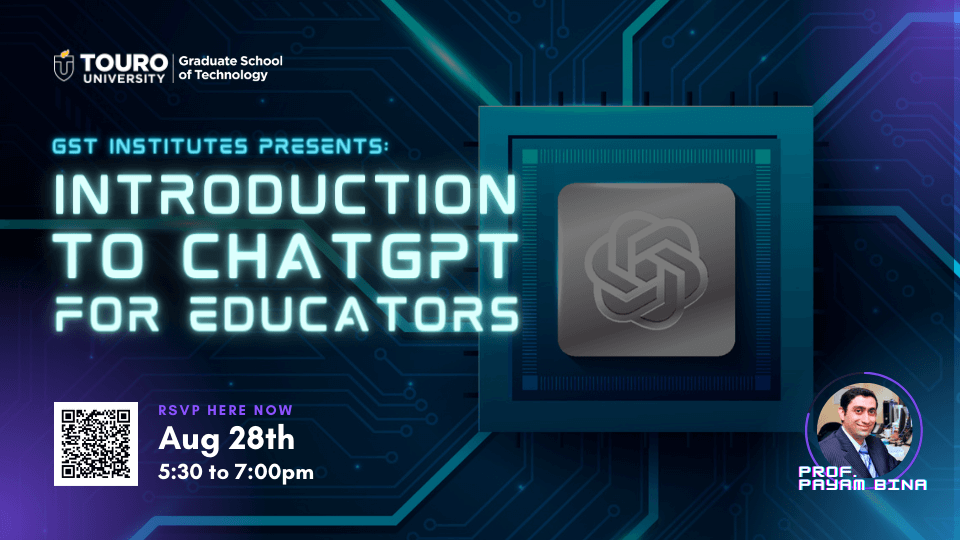 Join Touro GST's ITP Workshop:

Introduction to ChatGPT for Educators
Presenter: Payam Bina
5:30 – 7:00 PM EST time




Free and online via Zoom
Sign up using the RSVP form on this page
Introduction to ChatGPT for Educators is a 90-minute hands-on course designed to introduce educators to the basics of ChatGPT. The course covers the following topics:
What is generative ChatGPT?
How can ChatGPT be used in the classroom?
Best practices for using ChatGPT with students
Tips and tricks for getting the most out of ChatGPT
The course is designed specifically for beginners and requires no prior knowledge of ChatGPT. To take this course, you will need access to Microsoft Bing. By the end of the course, educators will have a solid understanding of what ChatGPT is and how it can be used in the classroom.
About the Presenter:
Payam Bina is an experienced educator currently serving as the Chair of the Instructional Technology Program. With a background as an Instructional Technology Specialist at Touro University, Payam has a proven track record of assisting teachers in creating interactive and engaging lessons using AI and other innovative technologies. Through active participation in educational conferences and continuous professional development, Payam has gained expertise in integrating AI tools into the classroom.
The session will be held virtually, and further instructions on accessing the workshop will be provided once you RSVP.
NOTE:
All you need is a device with internet connection to stream the webinar live online from home.
Sign up using the RSVP form on this page.
You will receive a separate email with the Zoom link and password to join the meeting.
Looking forward to seeing you there! ~Touro GST
Questions? Contact Marekh Chikadze
212-463-0400 ext. 55248, marekh.chikadze@touro.edu
Workshop RSVP!