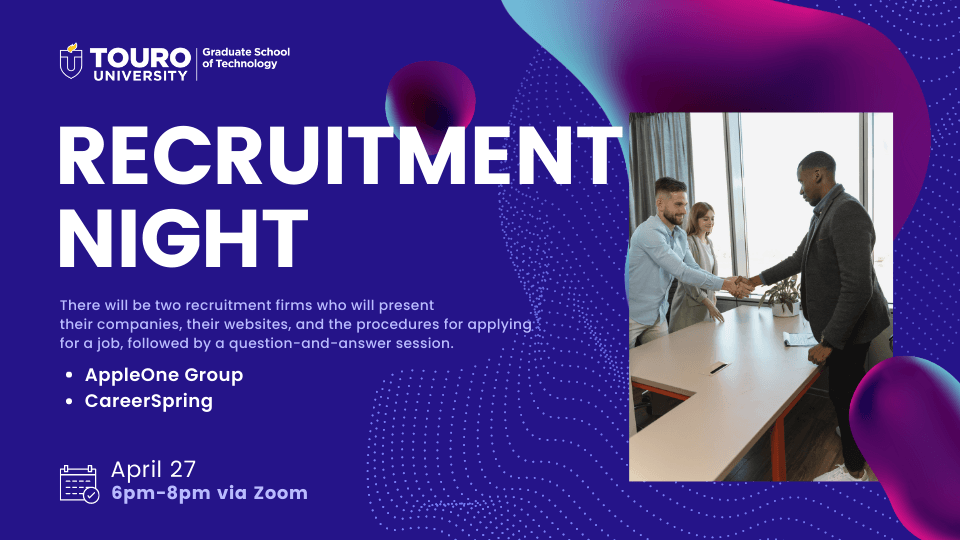 Join Touro University GST's Recruitment Night:
Touro GST is proud to present Recruitment Night with AppleOne Group and CareerSpring at 6-8PM on Thursday, April 27th, online via zoom.
6:00 – 8:00 PM New York time




Free and online via Zoom
Sign up using the RSVP form on this page
We are pleased to announce a Recruitment night on April 27. There will be two recruitment firms who will present their companies, their websites, and the procedures for applying for a job, followed by a question-and-answer session.

Anyone who signs up for Recruitment Night is expected to have a digital resume easily available to share with the recruiters.

The first presentation will be by AppleOne Group at 6PM.
AppleOne is a recruitment firm whose mission is to build relationships with a multitude of high-impact educational institutions and innovative companies, to foster a new pipeline of talent resources and leaders in the workforce and to bridge the gap between education and employment.

The second presentation will be by CareerSpring at 7PM.
CareerSpring is a non-profit organization committed to supporting first generation students, graduates and high-quality employers to realize mutual and maximum benefits through each other. First generation students and graduates are young men and women who are the first in their families to attend college.

These companies are committed to helping GST students attain productive and profitable careers. We look forward to an interesting and an exciting evening.

There will be no classes that evening. Only registered students and alumni can attend.

Registration will be cut off one week before the event so that time slots can be assigned.
Sign up using the RSVP form on this page.
You will receive a separate email the day before or the day of the workshop with your the Zoom link and password to join the meeting.
Looking forward to seeing you there! ~Touro University GST
Questions? Contact Robert Grosberg
212-463-0400 x 55496, robert.grosberg@touro.edu
Recruitment Night RSVP!